This shop has been compensated by Collective Bias, Inc. and its advertiser. All opinions are mine alone. #GetJohnsonsBaby #ChooseGentle #CollectiveBias
Ask any mom, and she'll tell you that the transition from one to two kids is like waiting for a hurricane to make landfall. Ironically, Charlotte was born just 1 month before Hurricane Harvey hit my hometown of Houston – crazy to think its anniversary is in just ten days. So not only was I trying to adjust to having a second child, I had to pack up and evacuate with a three year old and a newborn – not knowing if we'd have a home to even come back to. We were fortunate to have family close-by and ended up having very minimal damage to our house. Needless to say, the emotional stress though that it placed on me as a new mom of two was palpable. I remember breaking down in tears at the only gas station I'd miraculously found that hadn't run out of gas yet. A sweet stranger walked up and told me "It was going to be ok," after seeing me alone with two kids with a car packed to the brim and no husband around for help (as he was traveling for work and due home the night before Harvey hit). I guess my point in telling you all this, is that we often doubt ourselves as mothers. Thinking we can't possibly handle another child, and worry about all the little things – like giving them a bath, and choosing the right products that meet our high standards as moms. Luckily, this time around I've realized so many ways to cut through the clutter and go with brands that I trust for my baby. JOHNSON'S® is one of those brands.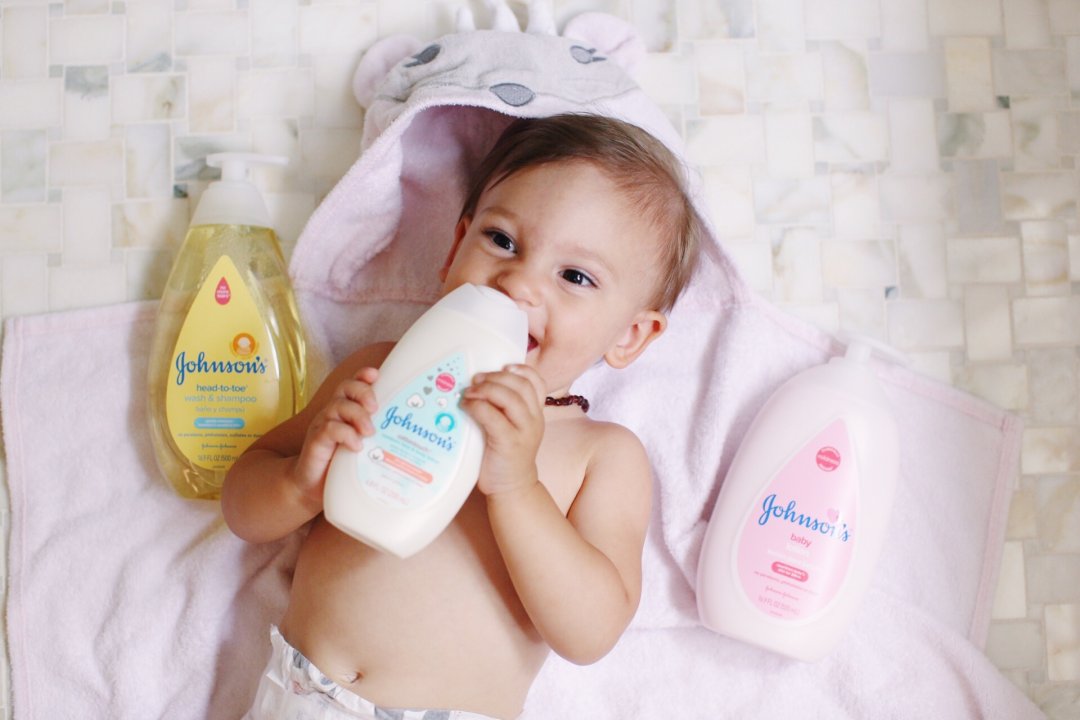 Now you can try my fave JOHNSON'S® products via this photo – just click through to shop them at Target!
I could go on and on about what a "hard knock life" mamahood is, but the one thing that gets me every time – is bathtime. "Give them a bath during witching hour," they said. "It helps create a bedtime routine", they said. Um, I don't know about you, but the only thing it ever created for me, was a wet screaming child instead of a dry one. So naturally, when I added a second one to the mix, I was just a little bit anxious. But I did what any well-meaning mama would do – I registered for the cute little baby bath mat that fit in the sink and promised to "keep them warm and happy." Well that's all well and good when you have a whole hour to spend bathing one single baby. Not so much when you have a toddler hanging on your leg asking for a snack, more juice, a bum to be wiped, etc. etc. So then I thought – I'll just combine the two. Easy enough, right? Wrong. But my friend made it look so easy with her 18 month old and 3 year old – they played, splashed about, and even (gasp) seemed to enjoy themselves. Let's just say, the night I tried to do the same with mine – my son went around for days repeating me saying "Well that was a total disaster." Lol 🙂
However I'm happy to say, through all the trials and tribulations, that with the help of JOHNSON'S® I've finally figured out the best way to tackle bathtime now. My first tip: One child and a time. At least until the youngest is old enough to not be in the baby bath, and the oldest is capable of washing themselves. My second tip: Multi-task. What worked the best was having my son take a bath first, and that way my baby could lay next to me on the bath mat and enjoy the sound of the rushing water. My last tip (and circumvents the whole issue altogether): Shower time. My son is all the sudden all about showers, cuz you know, baths are for babies. Well ok then, that takes care of that. Usually my hubs will just have him join him, which also gives mama a much needed break. We call that a #momwin, folks.
I know what you're thinking though – this only takes care of half the battle. The other half being – how the heck do I know which products to choose? Trust me, I've been there and played the whole "product roulette" game. Trying this one and that, not really knowing much about the brand or ingredients. Well this time, I was done playing around and was so excited to learn about JOHNSON'S® relaunch at Target. I mean, it's the perfect duo! What mom doesn't love Target and JOHNSON'S®?? Their products have always been reliable, which is just one less thing us moms have to worry about. But now they've been reformulated to be even more gentle, with no parabens, no phthalates, and hypoallergenic. They've even expanded their line of products to include my new favorite product – JOHNSON'S® Cotton Touch Face & Body Moisturizer. They still have all the "OGs" aka JOHNSON'S® Head to Toe Baby Wash and Pink Lotion. Now their free of all dyes and sulfates, more naturally derived, and they even added more easy-to-use pumps (I know that last one might seem trivial, but it's kiiiiind of a pet-peeve of mine so I'm all about it). Which is yet another reason why I love JOHNSON'S® – because they actually listened to parents from around the world and reformulated their products, inside and out, to set a new standard for gentle. Not to mention, their stuff is quite possibly the whole reason people love that "baby smell," and not gonna lie – I kinda look forward to bathtime now just so I can lather lil Cha Cha in sweet, sweet goodness 🙂
Plus, I could not have had an easier time shopping them at Target. Have you tried their new 2-day shipping option? I tried it out for two of the products and the other one I opted for their free Order Pickup – cuz honestly, any excuse for a Target run is alright with me 😉 Speaking of, on 8/26 there will be a Target in-store sampling of the Cotton Touch and the Bedtime lotions, and a coupon will be made available for shoppers. If you can't wait til then, they're also offering a "Buy 3, get $5 gift card" – instantly redeemable in-store and on Target.com (on the website, you'll see the offers underneath the product) valid 8/12-9/1.
So for all you mamas out there expecting a second baby, I hope these tips help and show why JOHNSON'S® is the perfect product for all your bathtime needs ?